What is a VPN?
VPN stands for Virtual Private Network.
VPNs create a private, secure and anonymous network connection, even if you're using a public wifi network.
This allows for a range of different benefits, such as:

Better security and privacy: VPNs encrypt your browsing data, with the encryption used by security experts worldwide to protect sensitive information. This means malicious hackers or even your internet service provider can't see what you've been up to online.
Location privacy: With a VPN you can appear as if you're in another city, or even another country or continent.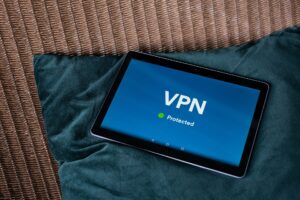 How can VPNs be implemented into a business?
VPNs can be used to bridge two networks together. For example, if your Head Office is in the middle of London and you then open a new branch at the top of Scotland, you can virtually bridge the Head Office network to your new branch which will then allow you to send data from one another.
An easy way to think of this would be to picture a very long, virtual, ethernet cable that connects both sites together.
VPN's are not just used for bridging two buildings' networks together. They can be used if an employee is out of the office on a business trip. A good example would be if you're in an airport and you need to access a certain file that is saved on the Head Office server. Not only would using a VPN connect you to the Head Office network so you can access your file but it also provides the security needed when using unencrypted airport Wi-Fi. 
Confused by IT? Give us a call on 01553 692727 or email us at [email protected] to talk about our Managed IT Services.